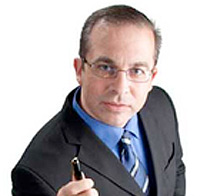 Pete Santilli
The Pete Santilli Show
M-F 10am-1pm Pacific (Listen)

As a recovering life-long Reagan Republican I am now a full time a-political realist who is disgusted by left-right psychological warfare. Over the past several years I've researched deeper into our nation's history, I now have so many questions about the JFK assassination, George H.W. Bush's CIA ties to the assassination of JFK, the Reagan administration's drug running; war mongering and as Charlotte Iserbyt personally witnessed, installation of communism through the Department of Education. As I progressed in my awakening, I discovered one of the pivotal points in our nation's history was the Bush-era explosion of global mob and drug cartel control. It is now widely known, yet conveniently unproven that George H.W. Bush's legacy as a CIA C.E.O. laid the groundwork for the Clinton's Dixie-Mafia drug cartel dynasty. As I have observed and have been told, the Bush/Clinton drug cartels have been battling with the Obama Chicago mafia ever since.
I'm a former US Marine who specialized in aviation deployed weaponry including nuclear, biological, chemical and conventional weaponry. After my honorable medical discharge, I was employed by a LASER manufacturer and became a Certified Crime Scene Investigator who developed revolutionary evidence detection techniques with the use of LASERS and alternate light source technology training forensics experts at the FBI Academy, U.S. Secret Service, Department of Justice, almost every State D.O.J. in the U.S.. I'm also former Coca-Cola and BellSouth Executive & whistleblower who, as an insider, discovered Coke's secret scheme of shaving $200-300,000 per month in overtime wages in the Pacific Southwest. I was the lead Plaintiff in a nationally publicized $200 million dollar class action lawsuit Most recently, I've been a small business owner as a Consumer Advocate and business owner dedicated to helping homeowner's and attorneys across the country stop unlawful foreclosures. Now I am a full time radio talk show host and indisputably the most controversial voice of reason & reality on the air in the United States.
My radio show is not a conspiracy-theory or "right wing conservative" radio talk show; it's a reality show. In fact, I'm frequently told that the things I constantly think about regarding the ways of the world would cause most individuals to go insane. I'm a very sane free-thinker and a natural skeptic and I'm wide awakened individual who subscribes to following principals I've learned from the late, great William Cooper over the past year of my awakening: Never trust anyone. Listen to and read everything you can get your eyes and ears on. Never believe anything you haven't personally researched yourself.
By trade, I was most recently a small business owner as a professional Consumer Advocate based in Southern California. Essentially, I'm a professional hell-raiser working for people who've been ripped off or misled by unscrupulous professionals and corporations. Before I got fed up with politics, government, Wall Street, the military industrial complex and the police state, I had the inside track as a fast tracked executive in corporate America, a U.S. Marine with access to some of the most horrifying plans laid out for implementation of martial law (developed all the way back in the 80's), and when the collapse commenced in 2008 & I realized where we were headed, I discovered that I was almost living in the Zombie Apocalypse of liberals, neocons, moderates, rich, poor, middle class, baby boomers, etc. who all have so much trust in their system that they're almost brainwashed. My job now is to show everyone how I snapped out of the same exact fog you are in --- believe me, I switched from being a hardcore Reagan neocon who watched FoxNews 24/7 --- I haven't watched TV for the past year after I discovered this fact: THE GAME IS RIGGED LIKE THE NFL. You can route for the Giants or the Cowboys; buy all their jerseys and merchandise but all the profits go to the NFL front office. The system we live under has been totally co-opted by the elite---- purchasing the entire spectrum --- so if anyone attempts to pigeonhole me on the political spectrum, please note that I despise LBJ, Nixon, Reagan, Bush, Clinton, Ron & Rand Paul and Obama equally---- especially the drug and gun trafficking cartels which kept them all in power.
Call me a "conspiracy realist" who recognizes that we've all been under a PSY-OP (psychological warfare operation) especially since 9-11, and I spend every waking moment trying to awaken as many people as possible in the shortest period of time. My show is raw, real, sometimes comical, but most importantly filled with information and interaction with my audience. (Website)